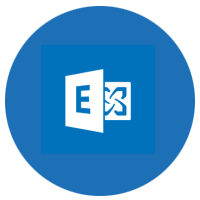 Connect to Microsoft Exchange/Microsoft Office 365
You can connect to your Microsoft Exchange Calendar using multiple options. The Meeting Room Schedule allows you to connect to a calendar associated with user account as well as to a resource calendar.
Connect to Microsoft Exchange Resource calendar:
A resource or room calendar  is usually associated with a resource which is a meeting room, conference room, auditorium, training room etc. You can use the app to display the schedule of the resource on a wall mounted tablet, so that participants can easily locate as well as browse through the upcoming events. Follow the below steps to set up your resource calendar and display in Meeting Room Schedule app.
Step 1 for Office 365 (O365): Set up a resource calendar

Log on to your Office 365 admin portal.
Go to

Resources

>

Rooms & Equipments

Click on

+

button to add a new room.
Enter a name and email address for the room and add the room.
In the main navigation, go to

Users > Active Users

.
Select the user corresponding to the room and reset the password.
Step 1 for Exchange: Set up a resource calendar in Exchange

Read here to know about resource calendar set up in Exchange.
Step 2 for O365: Get .asmx link for your meeting room.
Try https://outlook.office365.com/EWS/Exchange.asmx
Step 2 for Exchange: Get .asmx link for your meeting room.
Try https://yourserver/EWS/Exchange.asmx
If the link above does not work, read this article to know about getting the .asmx link for your resource.
Step 3: Reset your password
If you don't have a password already defined for your resource, reset the password to get a new one. Click reset password after selecting the resource mailbox in the active directory or active users list.
Step 4: Connect to Meeting Room Schedule.
Install Meeting Room Schedule in your android device.
Tap and select the option Settings from the top right of the main screen.
From the list of options, select  Calendar Connection
Select the option Exchange (read the instructions on the screen for more help)
Enter the exchange server URL (.asmx) obtained from step 2
Enter the user credentials from step 3
Select Save & Exit to go to the main display screen.
Step 5: Fine Tuning of Exchange/0365 Settings
Using Powershell, you're able to access advanced settings. The following two settings have the biggest effect on what's shown on the app as subject of the meeting:
[-AddOrganizerToSubject <$true | $false>] and [-DeleteSubject <$true | $false>]
Here you'll find a complete list of advanced settings.
How to access powershell? Check this documentation from Microsoft.
Connect to Microsoft Exchange user calendar:
If want to connect to a Microsoft exchange calendar of a user account, follow Step 3 and Step 4 as above. The .asmx link is same for resource account and user account, only the credentials will be different.