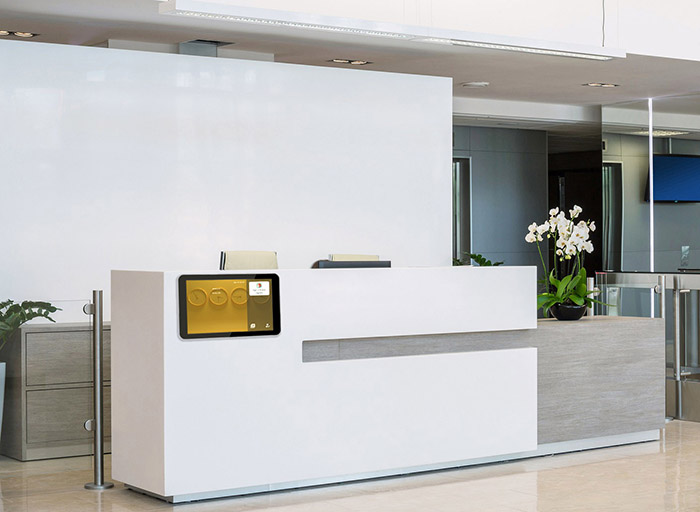 Sign In & Visitor Register
No personnel at the reception area? No control about the ins and outs? Move to the next level. Transform your office into a smart office.
Many small and medium sized companies don't have any digital solution to handle employee and visitor streams.
What for?
Visitor registration with contact data and visitor notification. Know who's visiting and get your visitor guidelines acknowledged (emergencies, corona rules etc.).
Emergency evacuation. Employees sign-in and sign-out with their RFID/NFC tags. Visitors are registered. You'll know who's in the building. Your assigned personnel can do further sign-outs at the assembly point.
Monitor your lone workers. Triggers emails that warn your lone workers and notifies supervisors.
Our solution needs a tablet in the entrance area and nfc/rfid tags for the employees. You'll have the data available in the cloud in case the tablet cannot be evacuated. Administrators can set up the look of the welcome screen and configure all the email notifications. Ask for additional features, we're permanently adding new ones. Export timesheet for payroll? Wayfinding? Custom reporting?
Just ask for it!
For the hardware we propose the following items:
The NFC fob can be bought for 0,5EUR/USD-1EUR/USD per piece with medium quality. There is not much risk. Just don't mix up NFC with RFID. Read below for reader integrations. You could buy some from Amazon or ebay. Start with a small quantity to test it on your device. Our software solution gives 1 one month trial for free. Don't buy the cheapest you can find. Don't save on the wrong end.
We made a demos with multiple NFC Tags (key pendant) – NTAG216 – 888 BYTE storage space. Most of them worked.
Click here
For the tablet/reader there are three options we want to outline:
NFC Built-in tablets
Consider using professional rugged tablets, mostly manufactured for the domains of logistics or maintenance. Those are solid and have replacable batteries for long life. The ones listed below come with SIM-card slots, too. They give the best solution if your priority is building evacuation. Your staff can move out and take it with them. In case of emergency, your responsibles can do further fob sign-outs with the people gathered around them. The task is to find people who are left in the building. We believe this is easier to handle if the list is already shortened.
If your reception area is accessible to anybody, you should consider using a casing as a theft protection. The keys that are needed to remove the tablet should be given to the safety officers. In case something goes wrong, all data is accessible from smartphones as well.
Look for Samsung Galaxy Tab Active (SM-T365),  Samsung Galaxy Tab Active 2 (SM-T395) 4G and Samsung Galaxy Tab Active Pro (SM-T545) LTE. If the new ones are too heavy for your budget, look out for refurbished ones. They have all built-in NFC readers. It's located at the back. So your hand needs to make a move behind it. Sometimes moving your tag to the side does the job.
Click here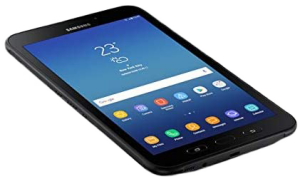 Check here for how to mount the tablet in your reception area.
Kiosk tablets for the reception area.
These professional display solutions are made to operate in your reception/lobby. They look very stylish in this representative office space of yours. This type of tablet is going to be a better fit if you want to impress your visitors. They have the reader on the front side. But you cannot take it out of the building – it doesn't have a battery. We provide the list of people and logs on the cloud in this case. So you just need to access a website with password from your mobile. Of course, you could combine this solution with a rugged tablet in your employee entrance. Check link below to have a look at an ALLNET Desktop Display Tablet we chose as an example.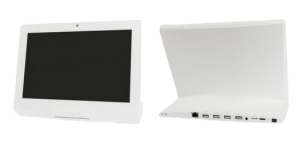 External reader integration
Alternatively, we could integrate a mobile external reader for your project. Then you can choose any consumer tablet or professional display and have the reader on the desk beside. In case of emergency, you can take it out together with the tablet, doing further fob sign-outs with the people gathered around you. It has a clock battery in it. Check this example we propose.