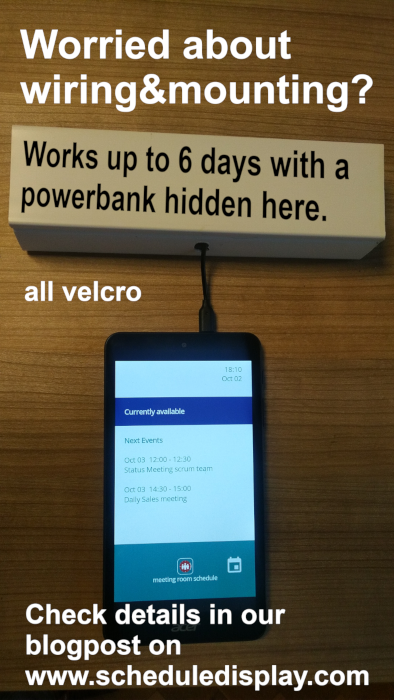 Battery life of wall mounted tablets
The use of any app which keeps the screen on continuously, raises questions regarding the battery life of tablets and power saving techniques. We discovered that some of our users avoid permanent charging due to wiring impediments. We did some experiments to find out how their daily unmounting and charging activities can be reduced. In this post we would like to share the results of different tests we conducted on multiple wall-mounted tablets.
The first set of experiments were conducted on an Acer 7″ Iconia One tablet with Android 6 OS. The following scenarios were tested:
100% charge + no power saving – The tablet was fully charged when the test started and was run with the default settings in the app's main screen.
100% charged + night mode (sleep mode) using wake-on-camera – The tablet was again fully charged and the night mode option with wake-on-camera feature was set up using third party apps like tasker and motion sensor. In this case the device wakes up if someone moves in front of it. Read here to know more on how to set up night mode with wake-on-camera.
100% charge + night mode (sleep mode) with 8hrs timer – In this scenario, only a timer was set up which automatically activates sleep mode (screen off) after office hours. Read this article to know how to set up night mode with timer.
100% charge + power bank + night mode with 10 hrs timer – For this test, we charged the tablet to 100% as well as a 20100 mAh power bank from Anker to 100%. Also, night mode with 10 hours sleep time was configured.
100% charge + inverted colors – This test was designed to check if setting up a dark background and light colored fonts have a big impact on energy consumption.
Results from the experiment are shown in the table below.
Interpretation of results: We're surprised to find out that in sleep mode the battery level almost stayed constant. The timer for night hours gives an extra battery life of the same duration. Using the camera as a motion sensor seems to consume substantial energy though. But the real benefit is here: the powerbank enables you to charge only once a working week! By spending around 50$, you can keep the tablet mounted. Another big surprise: Black background is consuming 30% more energy than our default light grey background!
The next test was to check the battery life of different tablets, under the same condition. We chose the normal mode of operation which is 100% charge + no power saving. The results were as below.
Interpretation of results: A bigger tablet has a bigger display on one side, a bigger battery on the other side….a smaller tablet will not perform longer as a wall mounted display. Old tablets of a quality brand aged 3-5 years will lose around 20% of their battery life.
If you choose to operate your wall-mounted display with a powerbank, it's time to think about the installation. One possible way to mount the powerbank is to place it inside a cable duct. It could be placed inside any decorative object like a newspaper roll box.